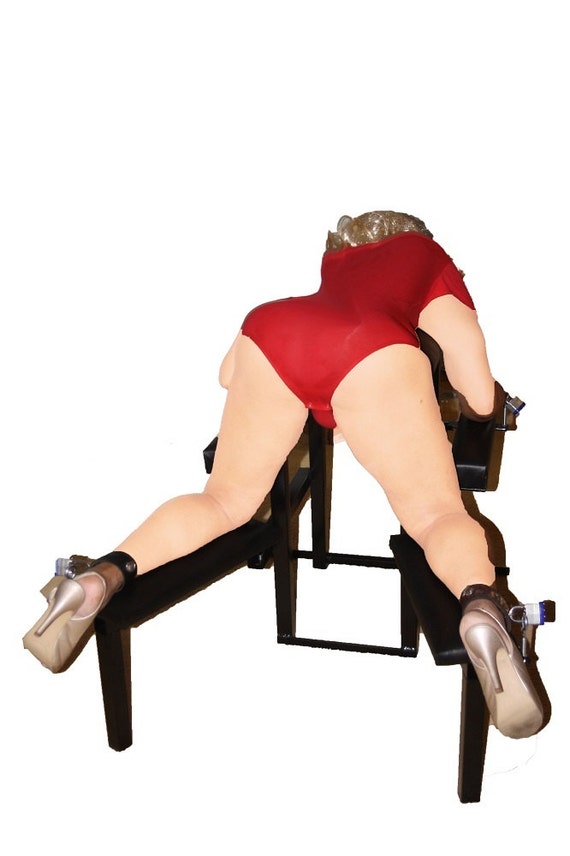 When we arrived back at Henry's home we immediately went to his basement playroom. I quickly reminded him that he had earned a good paddling for not having shaved himself as I had directed. He actually acted like he was looking forward to it and asked me if I'd like him to be on the spanking bench for it. I said that I would very much like that, and I directed him to completely strip. I then secured him to the bench. I then selected a medium sized wooden paddle and began to apply it to his backside. I started out rather lightly, but continued a crescendo until it was really popping of his red bottom. By the time I finished, it was clear that he was feeling it, although he was still semi-rigid. I decided to pause at that point and move on to my next planned task --- shaving him. After asking Henry if he had a beard trimmer and learning its location, I assembled the tools needed to shave everything accessible from the position he was now secured. It allowed excellent access to his bottom, scrotum, and inner thighs. It took a while, but once the task was completed, I liberally applied an alcohol based after shave that I found with his shaving gear and then returned to using the paddle again. This time I really got his attention and his erection quickly disappeared.
I then advised Henry that I wanted to move him to the gynecological exam table. After securing him with his legs spread, I proceeded to shave his front side. It took a while, but I thoroughly enjoyed having such complete control over him and watch his discomfort as removed the hair from his waist to mid thigh. He really looked quite cute and I made sure to tease him about how smooth and clean he was going to be. He must have enjoyed it because he remained hard the entire time, which made the shaving of his penis much easier. When I was finished I advised him that I expected him to continue shaving this area at least once a week for me. I also warned him that if he failed to do so, I would use more than just a paddle on him.
I decided it was then an appropriate time to introduce Henry to his new chastity cage. Somehow I think he thought it was going to be a bit of a joke. However, I now clearly let him now that if he wanted to have a serious relationship with me he had to turn over control of his manhood and stop getting all of his sexual pleasure from his hand pussy. I explained how effective it had been for Susan and Barry and that this was not negotiable to me. He decided to agree and I proceeded to install his new device for the first time. It was a challenge at first due to his erection. But, thump to the underside of his erection from my fore finger snapped from my thumb (a trick I learned many years ago from a fellow nursing student) quickly reduced the problem.
I then asked Henry if he had ever orally pleasured a woman to orgasm and learned that this was not a skill he possessed. So, we moved to the sofa in his downstairs office for his first lesson. I was pleased to realize that Henry was a very quick study. He was also pleased to learn that pleasuring a woman provides similar returns. He experienced the first removal of his chastity device to be pleasured (and, of course, having it re-installed afterwards).
We decided to meet again in two or three days. I thought that was an appropriate first length of time for Henry to be locked up. I also reminded Henry that we had one more new toy that we haven't explored.
As we cuddled in each other's arms at the end, we both agreed that it had been a wonderful day together. It was very clear to me that I needed to take charge of Henry and I was also very pleased at how he accepted this new control in his life. As I look back on this now, months later, I realize how critical that day was in the development of our relationship. I firmly believe that if I had not taken charge we would not currently be planning for our upcoming wedding. We would also not be enjoying the deep relationship we have with Susan and Barry as a foursome.
Susan has purposely not been posting while I have been sharing these beginning stages of my relationship with Henry. I now hope we can get back to sharing more about all of us.
I also want to express my appreciation to all of you who have warmly welcomed and appreciated my sharing. This has been a new experience for me. It is not easy to share so much about a very private part of my life. Thank you everyone.
Carol