Henry was away last weekend, but suggested to Carol that she introduce Barry and me to his playroom while he would be gone. He thought it might be easier for Barry if the three of us explored and tried out some of his toys without him being part of the process. Barry and I thought that was very kind of him and liked to idea, so we accepted Carol's invitation to visit it Sunday afternoon. We were each very amazed and the three of us had a fun time.
As I mentioned in a previous post, Henry had been seeing professional doms and disciplinarians prior to meeting Carol. He got nervous about going to their facilities, so he decided to purchase the equipment he enjoyed most and set up his own playroom, with the understanding that the doms and disciplinarians would come to his home.
His playroom is part of an unused in-law apartment in his basement. As you enter the apartment from the outside or a staircase in the home, you enter what would have been the living room. Henry now uses that room as his home office and a sitting area. The office area serves an office setting for appropriate role plays; and the sitting area provides a lovely domestic setting for OTK spanking, light domination, etc. As we entered the room, my eyes were immediately drawn to a two foot heavy oak ruler on the top of the desk, as well as a crock sitting on the floor in the corner containing several canes.
What was originally designed to be the bedroom had been converted to an exercise room by the previous owner (complete with mirrors on the walls and a flat screen wall mounted TV).. Henry has now converted this room to a very tasteful room containing his 'heavy' furniture. This currently includes a wonderful spanking bench and an old gynecological exam chair that he purchased on eBay. It also contains other serious equipment such as his collection of paddles and straps; as well as a Venus 2000 penis milking device and electrical stimulation toys.
Off the former bedroom is a larger bathroom, which contains a large walk-in shower and significant floor space. The space allows for fairly large wicker bench (2 x 3') and a rolling medical stand that holds a medical grade two quart enema bag. There is also a small cabinet containing significant equipment and toys that would most likely be used in the bathroom.
The facility is quite impressive. After giving us a tour, Carol asked us if we'd like to play. She explained that Henry has taught her how to use most of the equipment, including the Venus 2000 and electrical stimulation toys. We quickly took her up on the offer.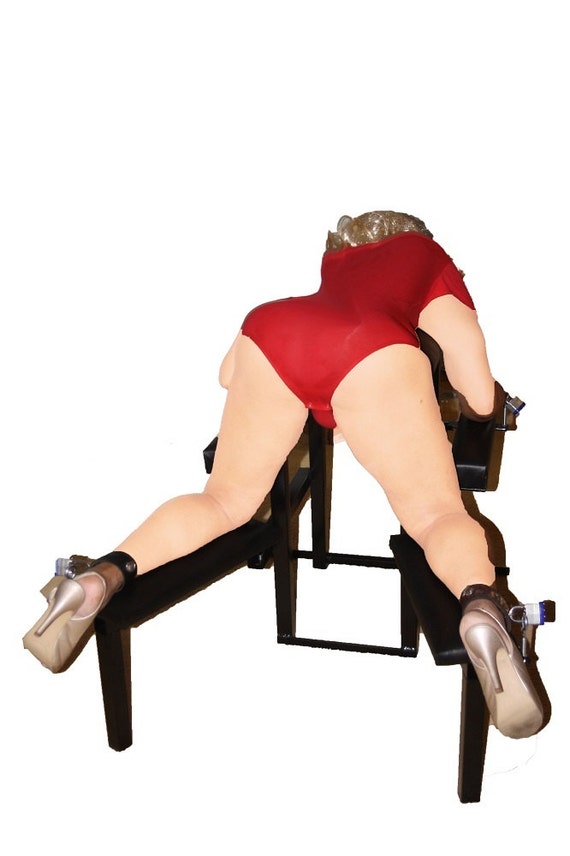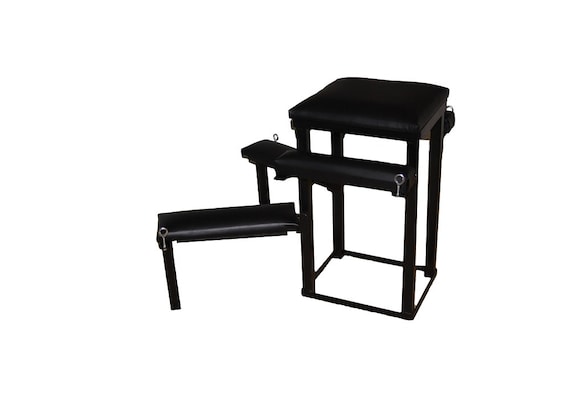 We started out with the spanking bench. Henry didn't want us to take any photos in his home, which we respect. However, Barry found his bench on line. Carol didn't waste any time in getting Barry secured to it. Once Barry was on it, I fell in love with it. It presented his bottom in a wonderful position for spanking and his legs were spread quite wide, so it allowed options for many other types of play. Carol was also very nice to make sure that his genitals were pulled back and fully exposed as she secured him to the bench. I had toyed with buying a bench similar to this a couple of years ago, but was afraid to have it in our home. It is truly a fun piece of furniture.
I wanted to keep our play fun, but I also wanted to try some of Henry's toys that were new to me. I started with a wonderful bamboo paddle. It was over a foot long and less than a 1/4 inch thick. I suspected that it would provide a lot of sting ... and it did! If anyone remembers the "SpankingMyHusband" blog by Deirdre, you may recall that she used to secure her husband, Evan, to a bench and then spank him for a predetermined period of time. I decided to use that technique with Barry. I announced that he would receive a five minute paddling with the bamboo paddle. It was then that Carol suggested we attach some electrodes to his penis and use the electrical stimulation device to keep him excited. So, with his penis undergoing constant stimulation, I began to paddle him at a reasonable intensity for five minutes. I managed to maintain a wonderful balance of making him feel the paddle, but never losing his erection.
I then selected what appeared to be a very old leather belt from Henry's collection of implements. It was about two inches wide and very soft and supple. However, it was clear that it had a different impact on Barry ... less sting, but definitely an impact.
It was then that Carol asked if I had ever used a cane on Barry. I had not, and I heard Barry grown and softly say "Please, no". Carol went out to the office and returned with a selection of canes. She and I chose a relatively thin one and she asked if I would like her to demonstrate how to use it. I agreed and she gave Barry several light strokes as she demonstrated proper technique to me. I took over and started out quite gradually. However, when I finished, I had left three very pronounce stripes across the lower portion of his bottom. By this time, even with the electrical stimulation, Barry was quite soft.
We then discussed other possibilities with the spanking bench, especially how easy it would be to make a spit roast out of Barry with each of using strapons. However, we decided to leave that for a later time. I was much to anxious to get Barry on the exam chair.
Again, this is not a photo of the actual chair. Henry had purchased his on ebay. It was a bit older, but it was similar to this photo. It had arm rests to which Barry's arms could be secured; and leg rests that spread his legs. It also left his genital area and anus completely exposed. Once Barry was secured in it, I began play with him and tease him. His erection came back to life. Carol then showed me how to use the electrical stimulation toy with a large butt plug that would then pulsate in his bottom. Since the chair's height is adjustable, Carol also pointed out how easy it would be to peg him and be able to watch his facial expressions and play with his genitals ... all at the same time. Again ... something for a future play time.
Carol then showed me how to use the Venus 2000 penis pump. She installed the cylinder over his penis and set it to slowly pump him. She then suggested that we go have a cup of tea and talk about Henry's play room. I agreed; and we left Barry with a butt plug pulsating in his bum hole and his penis being slowly pumped. We enjoyed the tea in the office, so we could be aware of Barry's sounds of arousal and frustration. When we returned to him about a half hour later, Barry was clearly in need of relief. Carol then showed me how to turn up the Venus 2000 to a rate that quickly brought him to orgasm. However, Carol was not showing any interest in quickly turning it off. Consequently, it continued to pump on Barry's spent organ, which caused him a deal of frustration. It was then that my mind began thinking about all of the things we could do in this playroom with both Barry and Henry.
We subsequently released Barry from his ordeal and we all enjoyed a glass of wine together as we debriefed and talked about Henry's wonderful playroom.
Susan